Employment Opportunities - Are you a team player?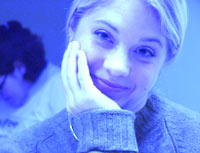 We are looking a few qualified and experienced hard working contractors in Montreal, who know how to distinguish themselves. We offer to you an excellent working work schedules.
Currently we are only seeking contractors.
Network Administrators
Minimum of 3 years experience in UNIX and windows web sever environments administration. DNS php, mysql, apache, IIS knowledge a requirement
Graphic Artists
Always looking for unique artists. Minimum of 2 years experience in graphic design and corporate branding. Photoshop, Quark and ImageReady experience required. Knowledge of html an asset.
Programmers PHP & ASP
Minimum of 5 years experience in web based programming in PHP. Unix and Mysql knowledge & experience is required. Systems Analysis Soft. Package Prog. Research Implementation and Development.